We are pleased to announce that the 27th Asia-Pacific League of Associations for Rheumatology Congress (APLAR 2025) will be held in Fukuoka, Japan, which has been actively promoted by a Japan National Tourism Organization (JNTO) MICE Ambassador, Professor Yoshiya Tanaka (School of Medicine, University of Occupational and Environmental Health, Japan).
The final presentation took place online on August 30, 2021, at APLAR 2021 in Kyoto (hybrid event) in the presence of representatives from around the world. The delegates and Board members then voted on the host city for 2025.
Japan competed with Singapore, Delhi (India), and Nur-Sultan (Kazakhstan). It was anticipated that this would be a difficult bid, as the competition was strong, and Japan had recently hosted the APLAR. However, thanks to the outstanding achievements of Professor Tanaka and the Japan College of Rheumatology (JCR), Japan's contribution to APLAR, the convenience and attractiveness of Fukuoka as a city, and the cooperative teamwork of "all Japan," the bid was ultimately successful.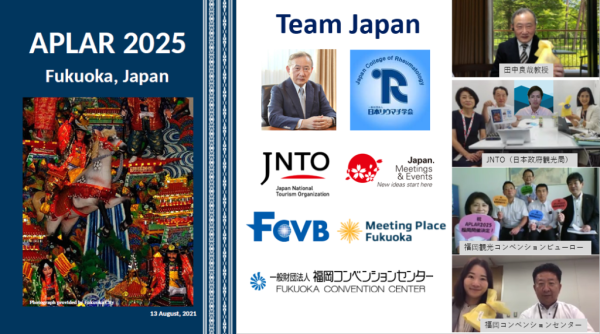 The Congress serves as the annual meeting of the Asia-Pacific League of Associations for Rheumatology (APLAR) and is dedicated to the advancement of and collaboration in rheumatology initiatives, the continued professional development of its members, the promotion of research, and the provision of state-of-the-art care to patients through such initiatives. Since its inception in Mumbai (India) in 1968, the Congress has been held in various countries. This will be the fourth time that the conference is to be held in Japan, expecting 2,000 to 3,000 participants including 1,000 from overseas which has previously hosted it in Tokyo in 1988, Yokohama in 2008, and Kyoto in 2021.
In collaboration with JNTO and the Fukuoka Convention Center, the Fukuoka Convention & Visitors Bureau as "Team Japan" supported the efforts of Professor Yoshiya Tanaka, who chaired the APLAR2025 Fukuoka Bidding Committee, and the JCR to successfully attract the event.
We are looking forward to seeing you in Fukuoka!
Conference
Name

The
27th Asia-Pacific League of Associations for Rheumatology Congress

Period

2/9/2025~5/9/2025(4days)(on
schedule)

Place

Fukuoka
City

Participants

2000~3000(1000 from abroad)
Nakagami / Fukuoka Convention & Visitors Bureau