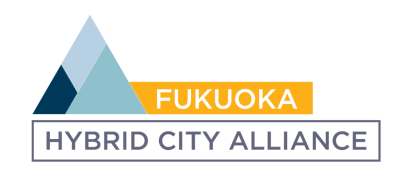 FUKUOKA, June 2, 2021

— Fukuoka has joined co-founders Ottawa, The Hague, Geneva, and Prague, and twelve other cities in the Hybrid City Alliance. The Hybrid City Alliance brings together like-minded destinations to offer a simple, streamlined, transparent and free to access approach to engaging with multiple locations for hybrid and multi-city events.
The other twelve cities are Antwerp, Cannes, Costa Rica, Durban, Edmonton, Lausanne-Montreux, Liverpool, Quito, Seoul, Sydney, Winnipeg, and Zurich, which means there are hybrid hub cities available through the Hybrid City Alliance in Africa, Asia, Europe, and North and South America. Fukuoka is the first Hybrid City Alliance location in Japan.
"Fukuoka Convention & Visitors Bureau is ecstatic to join the like-minded global convention bureaus in the Hybrid City Alliance working toward the resumption of in-person global events," says Sam Takashima, Executive Director of the Fukuoka Convention & Visitors Bureau. "Together with other members of the Alliance, Fukuoka will offer a simple way to organize multi-city meetings by taking advantage of the global reach of the Alliance and our hybrid-ready venues."
Fukuoka Convention & Visitors Bureau (FCVB) introduced a two-prong hybrid subsidy system to promote safe events in Fukuoka after having gathered info for meeting planners looking to organize hybrid events (a mix of in-person and virtual content), in October 2020. The high response rate prompted FCVB to continue the program for the 2021-22 Financial Year.
This subsidy system has ensured venues in Fukuoka have the technology and safety equipment necessary to carry out safe hybrid meetings, as well as helping organizers with the cost of COVID-safe events. So far, 27 venues have been approved for subsidies from FCVB, and are gaining experience by hosting hybrid events which would be a boon to international planners. The subsidy system is just the latest in Fukuoka city's efforts to support the meetings & events industry, which has led to the opening of 3 new dedicated facilities over the past year, and many more before.
About Fukuoka Convention & Visitors Bureau
Fukuoka Convention & Visitors Bureau (FCVB) is a non-profit organization that represents the MICE and tourism interests of Fukuoka city, the largest metropolis on the island of Kyushu.
Fukuoka is a compact, innovative city with close ties to the rest of Asia. It is favored by MICE planners because of its excellent transportation system and range of venues. FCVB connects domestic and international meeting, incentives, and tourism with venues and vendors around Fukuoka, with their famous Fukuoka hospitality.
For more information, please contact:
International MICE Sales & Marketing Manager, Fukuoka Convention & Visitors Bureau
Mail:mpf@welcome-fukuoka.or.jp