Fukuoka is a forward-thinking hybrid event destination!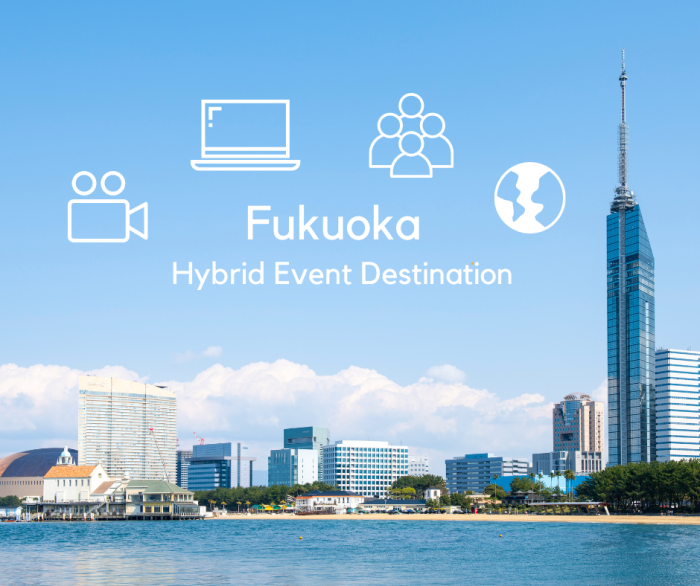 In October 2020, Fukuoka introduced a two-prong hybrid subsidy system to promote safe events in Fukuoka which connect to the world, and funding has continued for the 2021-22 financial year. Hybrid events are those which have both an in-person and online component.
The subsidy supports venues by providing up to 80% of funds to improve their hybrid products. This could include purchasing new hardware such as cables or switchers to improve their connectivity within the venue, or purchasing products for COVID-19 safety such as thermography equipment. 28 venues in Fukuoka city have received the subsidy so far, showing a strong industry desire for Fukuoka to become an international hybrid event destination of choice. In addition, new venues such as Marine Messe Hall B, Hakata International Exhibition & Conference Center, and Island-City Forum, which have all opened since 2020, have the latest hybrid technologies built in to their venues. This makes Fukuoka a world-class destination for hybrid meetings.
The subsidy also supports event organizers, by subsidizing the costs of COVID-19 safety and hygiene supplies for the in-person as well as costs for internet connectivity including software and vendors. If you are an organizer considering Fukuoka as a hybrid destination, contact mpf@welcome-fukuoka.or.jp for more details on the conditions and how to apply.
Fukuoka is an excellent event destination because of its international and domestic transportation connections, as well as top-class public transportation system. It only takes 5 minutes by metro from the airport station to the main railroad station, and a further 5 minutes to the Central Business District. Choosing Fukuoka as your hybrid event destination will ensure our experienced vendors and venues make your event a success.