Contemporary Fukuoka Column (2020)
"Culture isn't a product, it's a process."
– Interview with Santiago Herrera, NPO TIEMPO Iberoamericano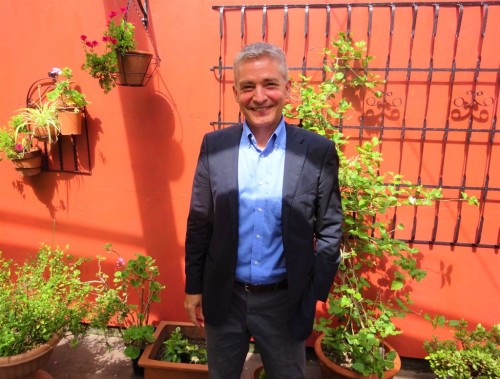 Fukuoka Convention Bureau (FCVB): Tell us about TIEMPO.
Santiago (SH): Tiempo Iberoamericano is a center that promotes diversity where you can experience art, dance, language, and typical to gourmet foods. It began with 15 founding members in May of 1997 as a place to deepen cultural exchange. At the time, TIEMPO was located in an old house near Yakuin Mutsukado, which we fixed up to meet our needs. Then we moved to Tenjin in 2000 and in June of 2010 to the current location at the Daimyo 115111 building so that we could increase our offerings. Tiempo's activities can be divided into three areas: classes, international exchange events, and the sharing of culture, cuisine, and art.
We offer language classes in Spanish, Portuguese, Italian, and dance classes in Argentinian Tango, Flamenco, Salsa, and Arabian Dancing as well as other classes. As this is the only place in Japan where you can learn all of these genres in one place, it is like a holy land for those interested in Latin culture.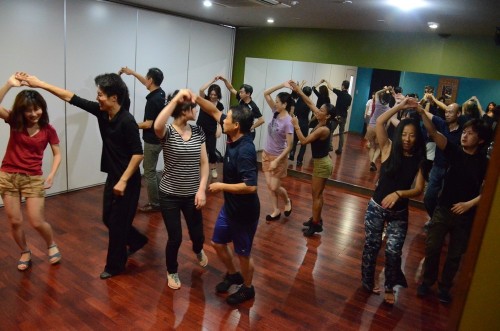 For international exchange events, we hold festivals, concerts, dance shows and weekend parties for tango and other dances like flamenco and salsa, with a theme befitting the genre. The teachers and other professionals give performances and the students attend to see the fruits of their efforts.
We started holding an open air Latin Festival "Isla de Salsa" the same year that we started Tiempo. After that, we created the "Vivela Salsa Tour" which takes on tour the festival's headliner all over Japan and sometimes through out the Asia Pacific. One highlight of this annual tour was the Los Van Van performance at Sydney's Opera House. In 2014, we began a new festival called "Sakura Tango Festival" which celebrates the beauty of tango and intercultural nonverbal exchange. Tango lovers and musicians from all over Japan, Europe, and the rest of Asia gather annually to enjoy this event during the cherry blossom season.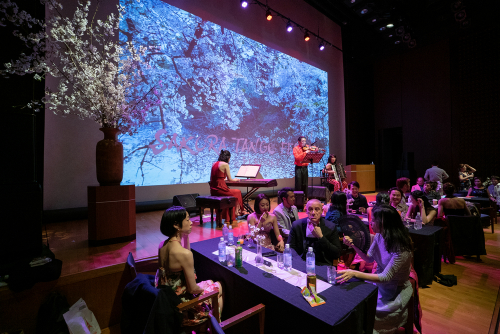 We are able to offer cuisine on the 5th floor of the Daimyo 11511 Building at our restaurant "Sancho Panza" and art at our 3rd floor gallery "El Taller." We invite chefs yearly to Sancho Panza who prepare home-style dishes from Spain and Central America. In addition to an indoor area, we have a terrace for dining. And on weekend evenings, we have mini dance shows and Latin guitar performances which you can enjoy during dinner. At "El Taller", we have art exhibitions and interactive workshops.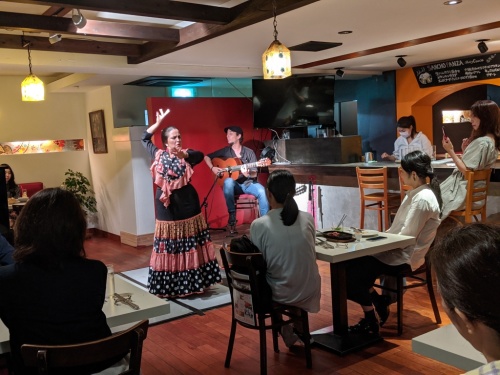 FCVB: Could you tell us how you got involved in these various activities in Fukuoka?
SH: I was born in Seattle in the US and went to school in Buenos Aires, Argentina. At the age of 23, I wanted to see the world with my own eyes, so I backpacked through 40 countries in three years, including the Americas, the former Soviet Union, Asia, the Middle East, and Africa. Swedish friends I met on the trip were teaching English in Fukuoka, so I visited here to meet them.
During my stay, I was introduced to the game of "Go" by an acquaintance and was fascinated by its worldview. Go does not have the aggressive elements found in chess. It emphasizes social harmony rather than individualism or assertion. Instead of defeating the enemy directly, you expand your position while looking at the overall balance. Also, I was interested in these values which seemed to be Japanese or maybe Asian.
After wrapping up my travel, I returned to Fukuoka in 1993 to dig deeper into the world of Go. Then, I began to spend six hours everyday playing on a Go board while teaching Spanish in the evenings. Meanwhile, working for the XVIII Summer Universiade Organizing Committee, I had an opportunity to invite athletes from Spanish and Portuguese speaking countries through their respective Olympic Committees to participate in this international sports event held in Fukuoka in 1995. This experience then inspired me to get more involved with the local community here and launch "Tiempo" with volunteer members to achieve deeper cultural experiences related to Iberoamérica (Latin America and its former colonial powers – Spain and Portugal).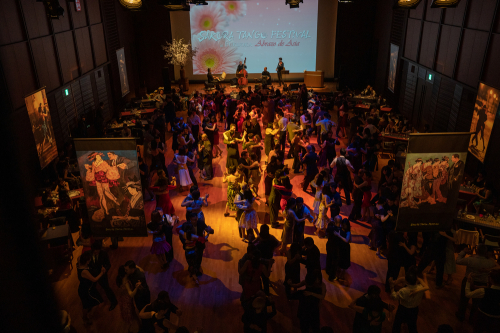 FCVB: What are your thoughts on what Tiempo is?
"Tiempo" is called the "Latin Cultural Center" but "Inter-Cultural Center" may be closer to my personal views. I don't think there is another region on Earth where the races and cultures are as diverse as Latin America. It is highly tolerant of different cultures. A typical example of this are the different races of powerful leaders in the region; such as the former President of Peru – Alberto Fujimori of Japanese descent; former president of Argentina – Carlos Menem of Syrian descent and the former president of Bolivia -Evo Morales of Aymara descent.
One of Tiempo's main events is Isla de Salsa. And the meaning of salsa here is actually sauce in English. It means a mix or mixed. Isla de Salsa also introduces music and musicians from countries other than Iberoameri
ca, such as Asia and Africa. I think Tiempo is a place where culture evolves through mixture, exposure and fusion.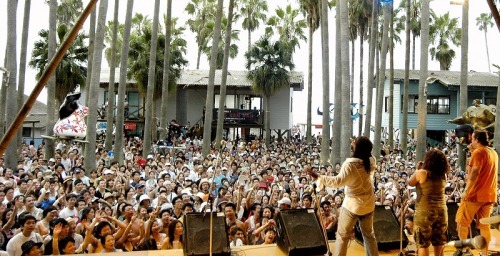 FCVB: I think it's deceptive to say that culture is a single concept.
SH: I believe that culture is not something that is contained in the community or society but rather it is personal. I think that culture buds in each person's heart during the process of fostering identity through various experiences.
Also, I think that culture is not a product, but a process that continues to evolve over time. The culture shaped by our ancestors may seem an important treasure but I think it is important not to be afraid that the shape of the culture will change as the times and social environments change. And we are part of it.
Moreover, in order to spread and perpetuate culture, it is important to create movement above all. The economy is just one thing that is created by movement. I believe that the idea that activities become a movement and movements create an economy that prolongs culture" is at the root of Tiempo's activities.
From last year to this year, I appeared regularly on NHK-E TV's language program "Travel Spanish" as a travel partner and was involved in the production of a program about Japan for the world's largest sports channel "ESPN" for the Tokyo Olympics. We are taking on new challenges, such as being responsible for the local production of some television programs. We face many difficulties in the field but at the same time, I feel that these are very rewarding experiences and encounters with people that greatly outweigh any issues that occur.
FCVB: We seem to be on the precipice of a great cultural shift, could you tell us what you think about that?
SH: There are a number of key words with importance at this time. One of those is uncertainty. The panic we feel from COVID-19's effects on the world is just us realizing that reality is extremely uncertain. I think we need to get used to it. It can also be said that that is why we should value the "now." It might be necessary to slow our pace. Tiempo means "time." When talking about culture, "time" plays an extremely important role. It takes time to bring together different cultures, create bridges between cultures and sustain an interactive relationship between cultures.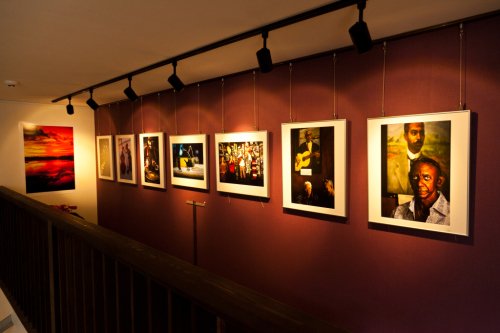 Another keyword is unpredictability. In 2009, the superstar of the Latin music world, Juan Luis Guerra, performed at "Isla de Salsa". Visiting Japan had been his dream for many years, and his country, the Dominican Republic, helped him realize it. That year Isla de Salsa was held at a special venue at Seaside Momochi. Although it had rained all morning, the sun shined through the clouds at the beginning of the festival. And when Guerra stood on the stage as the last performer of the festival, a beautiful sunset surrounded the venue.
After the festival, the performers and staff had an after-party at a hotel near the venue, but he did not appear. I learned later that he was staying in his hotel room to write music. The song he wrote that night is called "Bachata en Fukuoka". It is about his memories of his time in Fukuoka. The next year, he won "Best Tropical Song" for it at the 11th Latin Grammy Awards. This song raised the profile of Fukuoka in Latin countries. And now so many people want to visit the place where this song was born, by traveling or studying here. These unpredictable occurrences enrich our lives. And to seize such opportunities, I think we need the movement I mentioned earlier.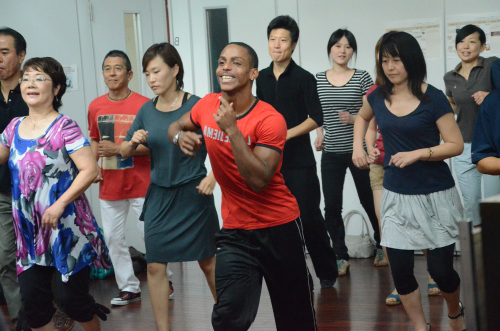 Lastly, I would like to point out the importance of non-verbal communication. Conductor and pianist Daniel Barenboim is a Russian Jew born in Buenos Aires, Argentina. He is known for organizing an orchestra concert composed of Israeli and Palestinian musicians. "Ethnicities with different cultural and historical backgrounds can experience conflicts and misunderstandings when they come into contact with each other through language, but conversely, bridges can be built using nonverbal communication, such as music and dance bringing us closer." I feel that such non-verbal communication is important. And I would like to make connections between people across borders through cultural exchanges and educational activities through music and dance provided by Tiempo.
FCVB: Thank you so much for taking the time to speak with us today!
Tiempo will have a crowdfunding campaign from September 5 to November 3, to ensure it can continue to offer its important cultural services. Check out the details
here
.