It's no secret that Japanese people love festivals. Fukuokans are definitely no exception and if anything are among the most ardent festival lovers in the country! Ranging from massive spectacles with overwhelming crowds to smaller and more intimate ones that can be enjoyed at a leisurely pace, there isn't a month that goes by without one. The three largest are Dontaku, a city-wide festival in May that attracts millions to see its parades and performances, Yamakasa, a festival in July based around Kushida Shrine that culminates in a 4:59 AM race of loin-clothed men carrying massive and ornate floats around the city as fast as they can run, and Hojoya, a Buddhist festival at the Hakozaki Shrine in September filled with crowds who simply want to enjoy the vendors and carnival atmosphere. This is, of course, only scratching the surface of the numerous traditional festivals, to say nothing of more modern events such as the Asian Party and Nakasu Jazz Festival.
Tamaseseri
January 3 @Hakozaki Shrine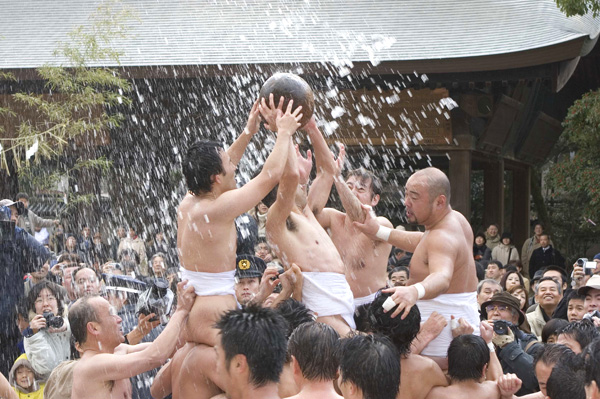 Hakozaki Shrine is one of the three major shrines of the god called Hachiman, and is designated as an important national property. Tamaseseri is a festive ritual that takes place here during the new year holidays on January 3rd, where shrine parishioners compete to capture a wooden ball to divine the year's fortune. The competitors seem impervious to the cold in their fundoshi (loincloths). It is said that if the winner of the ball is from the seaside team, a good seafood haul is foreseen for the year. If the land team wins a good harvest is forecast instead.
| | |
| --- | --- |
| Address | 1-22-1, Hakozaki, Higashi-ku, Fukuoka |
| Access | 5 minute walk from the subway Hakozaki Miyamae Station |
| URL | http://www.hakozakigu.or.jp/ |
Toka Ebisu Festival
January 8-11 @Toka Ebisu Shrine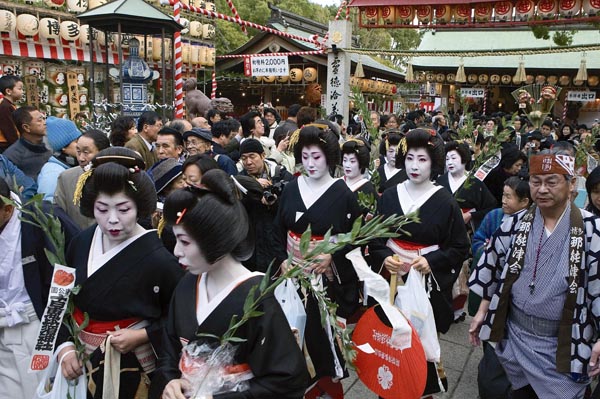 This festival is held at the Toka Ebisu Shrine, built in 1591 and devoted to Ebisu, the god of fisheries. It is a popular festival that runs from the 8th to the 11th of January and attracts many visitors. The highlight is the kachi-mairi (walking visit) of the geisha at around 3 o'clock on the 9th. Throngs of people gather then at the site with their cameras hoping to get a glimpse of the Geisha as they pass by.
Address
7-1, Higashi-koen, Hakata-ku, Fukuoka
Access
-5 minute walk from Chiyo Kencho-guchi subway station
-5 minute walk from JR Yoshizuka station
-5 minute walk from Chiyomachi stop of Nishitetsu bus
(no. 1, 7, 12, 13, 29, 51, 52 or 61).
Setsubun Festival
February 3rd – Kushida Shrine, Tocho-ji Temple, etc.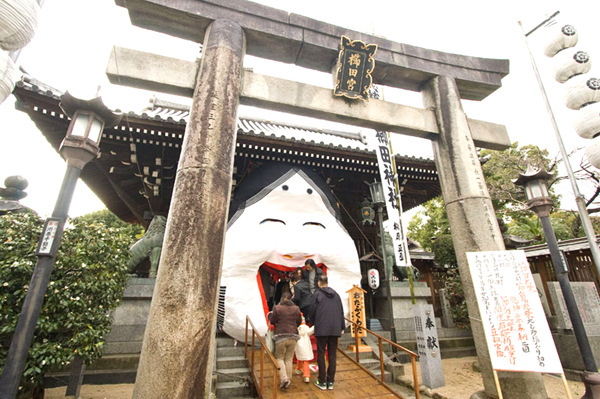 People have been celebrating Setsubun at the Kushida Shrine to shed their bad luck since the Edo Period. Visitors enter directly through the mouth of Japan's largest otafuku (a mask of a smiling woman) at the shrine's gate. Inside you will find people throwing beans and fighting to catch the beans thrown by priests, as well as dancing devils and other ornate"monsters". Adults and kids alike love the festivities. Why not try your luck at the lottery and snack on some stall foods outside?

Once you're done at Kushida Shrine, a 5 minute walk will take you to Tocho-ji temple, which also holds its own Setsubun festival.

There are special stages built in front of the main hall, and the seven deities of good luck and otafuku dance about throwing beans while shouting "Fuku wa uchi, Oni wa soto!" (Good luck in, evil spirits out!). In addition to beans, don't be surprised if you see candy, rice cakes, and even fruit flying through the air. If you wish to join in it costs 5,000 yen to get some beans to throw for yourself, but spectating is completely free.
Address
[Kushida Shrine]
1-41, Kamikawabata-machi, Hakata-ku, Fukuoka

[Tocho-ji Temple]
2-4 Gokusho-machi, Hakata-ku
Access
[Kushida Shrine]
2 minute walk from the Nishitetsu Bus "Canal City Hakata-mae" bus stop
5 minute walk from "Nakasu Kawabata" or the "Gion" Subway Station

[Tocho-ji Temple]
7 minute walk from the Nishitetsu Bus "Canal City Hakata-mae" bus stop
Adjacent to the "Gion" Subway Station
Kyokusui no En
March 1st – Dazaifu Tenmangu Shrine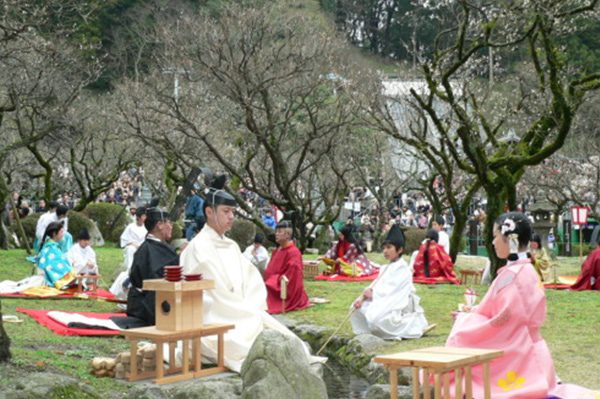 An elegant representation of a Heian era (9th-12th centuries) shrine ritual in which attendants robed in kimonos each create a poem by a stream as they wait for a floating cup of sake to reach them. Once the sake arrives, they stop their writing and take a drink.
Address
7-1, Saifu 4-chome, Dazaifu, Fukuoka
Access
Short Walk from Nishitetsu Dazaifu station
Fares
Museum of Ancient Treasures: Adult 300yen/ High school and University students 200yen/ Elementary and Junior high students 100yen

Sugawara Michizane Exhibition Hall: Adult 200yen/ High school and University students 150yen/ Elementary and Junior high students 100yen
Open Hours
The first Sunday in March (go-on even if it rains)
URL
http://www.dazaifutenmangu.or.jp/home.htm
Hakata Dontaku Port Festival
May 3rd- 4th – Tenjin and elsewhere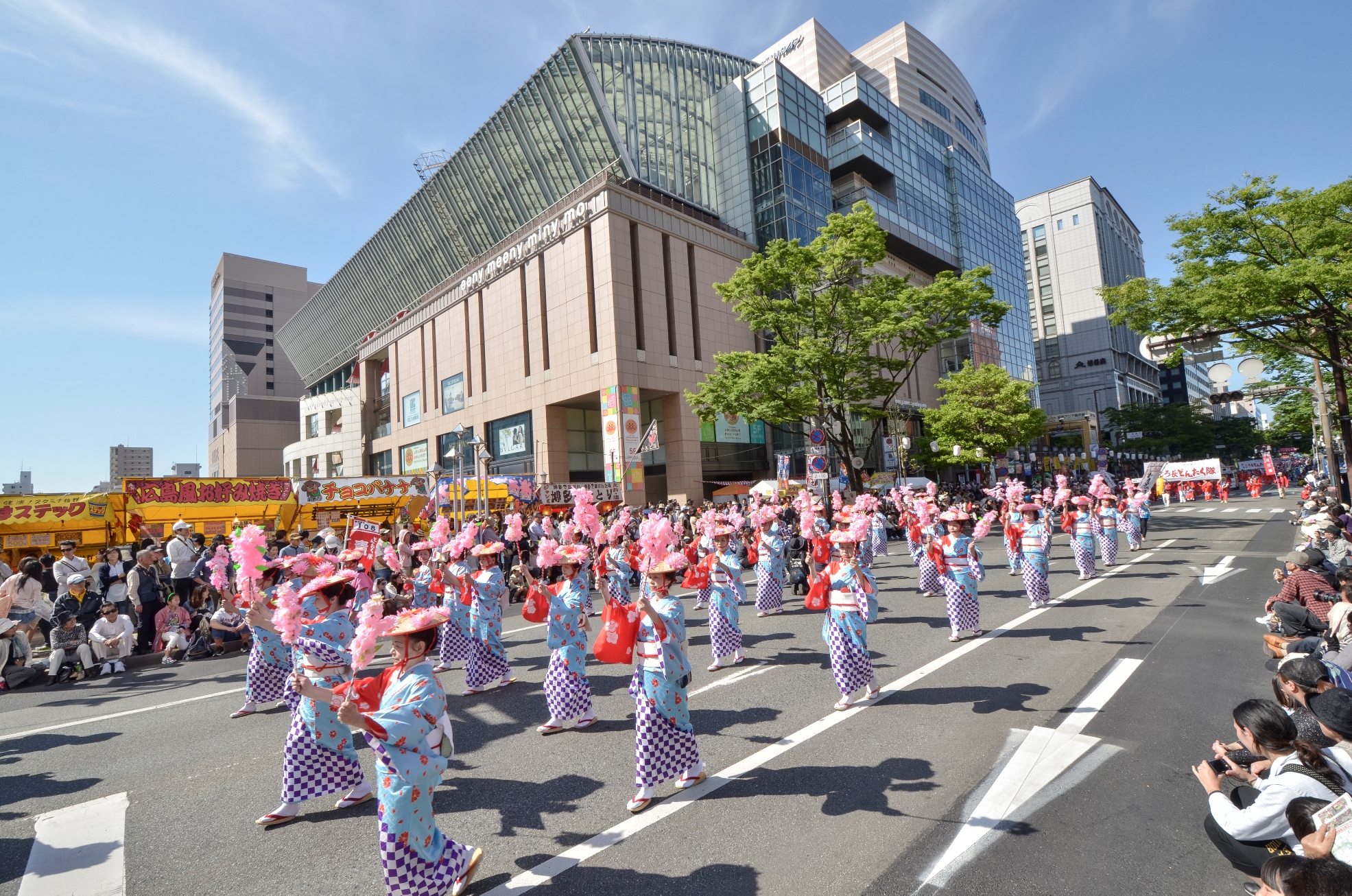 Hakata merchants first created this festival based on a traditional celebration called Hakata Matsubayashi dating back roughly 830 years ago. The word 'Dontaku' in fact comes from the Dutch 'Zontag' meaning "Sunday". The centerpiece of the festivities is the Dontaku Parade, which stretches for 1,230 meters along Meiji Street from Gofuku-machi to Tenjin. There are then 30 or more stages set up around the city during the festival period, bringing a jovial feeling to the entire city.
Hakata Gion Yamakasa
July 1st-15th – Kushida Shrine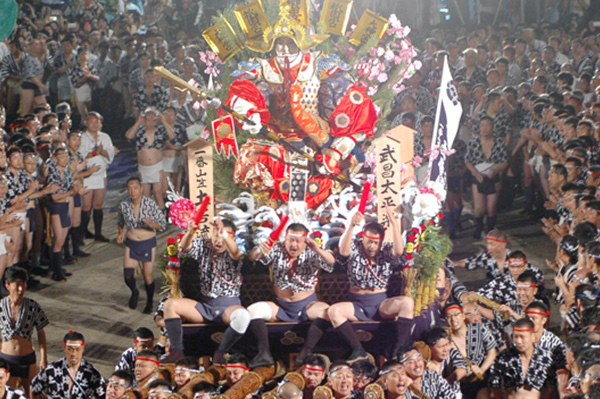 A festival that heralds the coming of summer in Hakata and Fukuoka. With over 770 years of history and designated as an important intangible folk cultural asset by the government, it is a ritual devoted to the Kushida Shrine, the grand tutelary shrine of Hakata. Around the 1st of July the ornate Yamakasa floats are displayed in many places across the city and Fukuoka swells with a festive mood and atmosphere. The climax of the festival is known as "Oiyama", held on 4:59 AM on July 15th which signals end of Yamakasa and the beginning of Summer in Fukuoka.
Address
1-41, Kamikawabata-machi, Hakata-ku, Fukuoka
Access
2 minute walk from the Nishitetsu Bus "Canal City Hakata-mae" bus stop
5 minute walk from "Nakasu Kawabata" or the "Gion" Subway Station
Hojoya
September 12th-18th – Hakozaki Shrine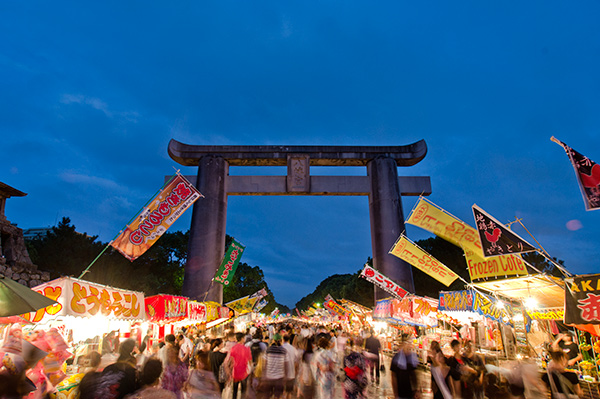 Nearly every Fukuokan have slipped into their yukatas and been to Hojoya at least once!

The autumn festival at Hakozaki shrine in the East ward of the city is held every year from the 12th to 18th of September. The shrine approach extends for about one kilometer, and during this period is packed with hundreds of vendors and a steady stream of visitors. Hojoya was originally a ritual meant to pay respect to all living things and to prohibit killing. Today many people come to the shrine to give thanks for the autumn harvest and to pray for traffic safety and successful business.
| | |
| --- | --- |
| Address | 1-22-1, Hakozaki, Higashi-ku, Fukuoka |
| Access | 5 minutes walk from Hakozakimiya-mae subway station |
Asian Party
All through September and October – Fukuoka City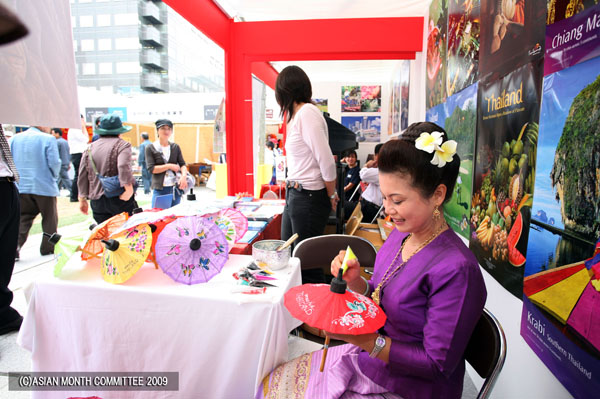 A festival with more contemporary roots, the Asian Party started in 1990 as the 'Asian Month Festival' but changed to its current name in 2013 to celebrate the Asia Pacific Exposition YOKATOPIA. With the motto of "Bringing People Together in Asia and Fukuoka City", Asia Party events are sponsored by a variety of organizations and institutions. On any given day expect to see a variety of dance, musical, or cultural events, to say nothing of the many food stalls set up throughout the city.
Nakasu Festival
The beginning of October – Nakasu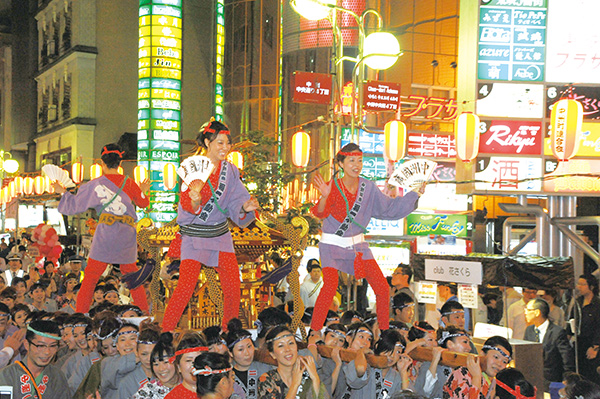 This festival was conceived of as a way to revitalize the Nakasu region. The Kunihio Onna Mikoshi parade of portable shrines carried by women is a notable highlight. There are several other events that are held on a special stage set up for the festival.
| | |
| --- | --- |
| Address | Nakasu, Hakata-ku, Fukuoka |
| Access | By subway: get off at Nakasu-kawabata station |
The Kyushu Grand Sumo Tournament
November – The Fukuoka International Center
The Kyushu Sumo tournament began in 1957 and was upgraded from an exhibition tour to a formal competition in 1981. Held in the Fukuoka International Center, you can find many Jungyo Beya) or places where wrestlers sleep and practice) around the city. Don't be surprised to see a few wrestlers wandering about the town to do a spot of sight-seeing themselves!
| | |
| --- | --- |
| Address | 2-2, Chikko Hon-machi, Hakata-ku, Fukuoka |
| Access | By Bus: Take Nishitetsu bus (no.46, 47, 48 or 63) and get off at Hakata Futoh Iriguchi stop (3 min. walk) or take bus (no. 11, 19, 47 or 48) and get off at Sekijo-machi stop (3 min. walk) |