From Fukuoka to Kyushu – Planning Your Tour of the Region!
Owing to Fukuoka's incredible accessibility getting around to various parts of Kyushu has never been easier. Whether it be by bullet train or expressway, there are many ways to get around the island which positively brims with unique experiences and sights to behold.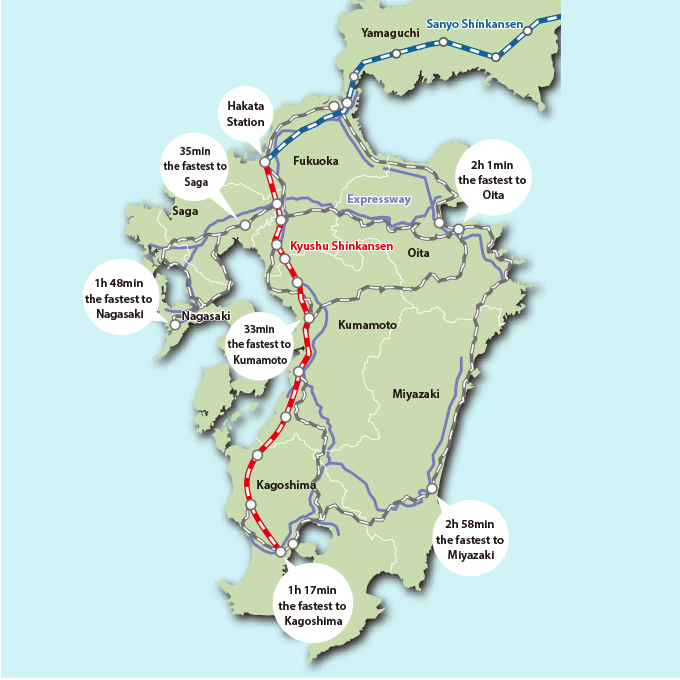 *The times displayed on the map are rough estimates for the time it usually takes to take JR trains or the Shinkansen (bullet train) from Hakata Station to Kyushu island's respective prefectural capitals (main stations).
■Shinkansen/JR Line
*Required time is displayed in the corresponding section. The amount of time required may change based on the train(s) you take and the time zone.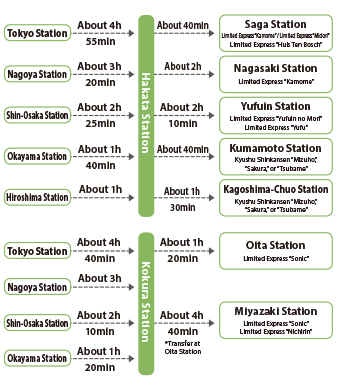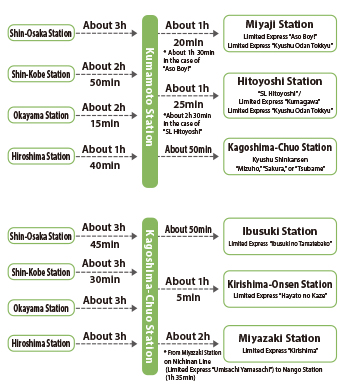 Tour of temples and shrines in Hakata and shopping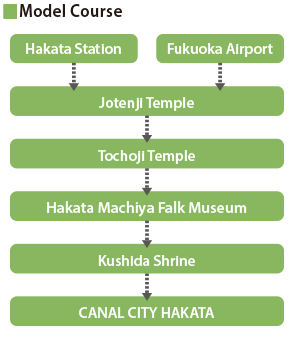 Hakata is home to a bevy of historical shrines, temples, and more modern amenities. After a day of shrine visits why not head over to Canal City to do some shopping and get some ramen while you're at it at Ramen Stadium?





Feel the history and culture in the tourist city of Dazaifu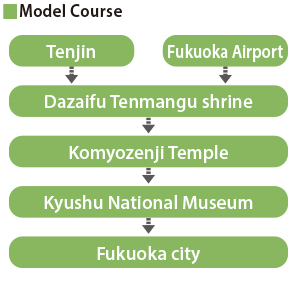 Dazaifu Tenmangu is an old shrine facility dedicated to Michizane Sugawara, a Heian Period politician and scholar who was exiled to Dazaifu following a political conflict in Kyoto. Since ancient times the city has been an administrative center for the area and exerted considerable influence. Worshippers flock throughout the year to worship the learned spirit, and the Kyushu museum is but a few minutes away making for an ideal day trip destination.



A castle town on the water often referred to as Fukuoka's Little Venice.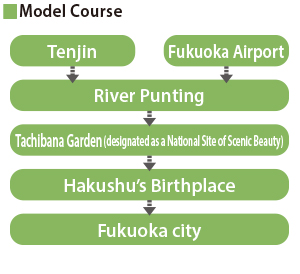 Yanagawa is a unique city in the prefecture famous for its river punting or flat bottom boats that are often likened to Venice's famed gondolas. Designated as a National Site of Scenic Beauty, you can come and enjoy a relaxed ride on one of the punts and partake of some of the delectable cuisine on display.



A city of fruit picking and famed sake breweries.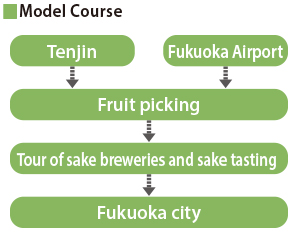 A city to the south of Central Fukuoka that is rich in nature. Flowers, seasonal fruits, and sake culture are all on full display here, as well as home to the first winery to use Japan's native Kyoho grape.


6 prefectures in the Kyushu region are within a day trip of Fukuoka.Smooth access to attractive sightseeing areas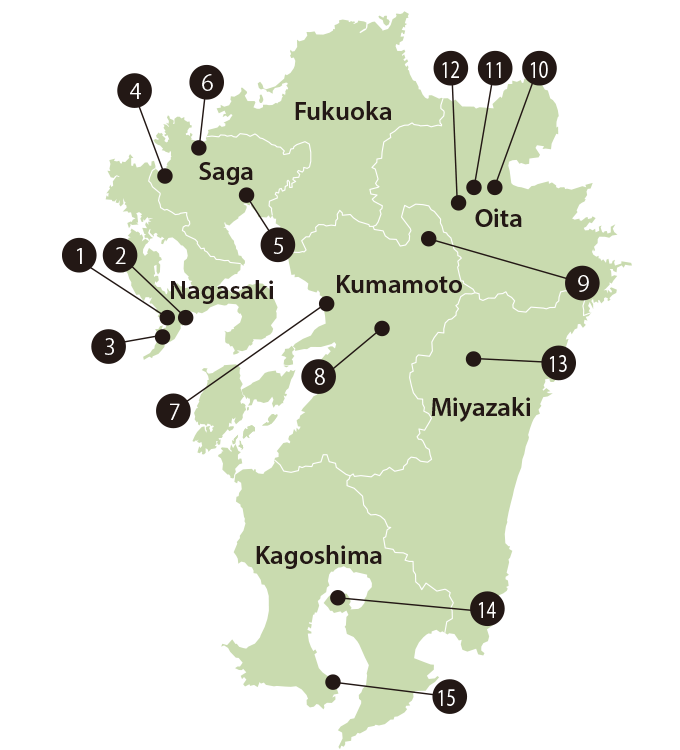 All six of the other prefectures in Kyushu are within a day of Fukuoka. Access is smooth and easy. As home to several world heritage sites and cultural heritage locations, why not use the comprehensive transportation network to make a day trip?

①One of the three greatest night views in the world!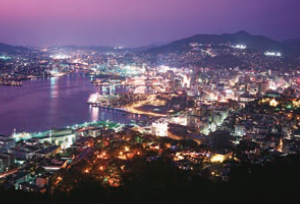 Nagasaki's night time view from the top of Mt. Inasa is considered widely to be one of the greatest in the world, even making it into the top three of a list including Monaco and Hong Kong. Though don't just stop at Mt. Inasa! Mt. Nabekanmuri and Kazagashira Park also command fantastic views.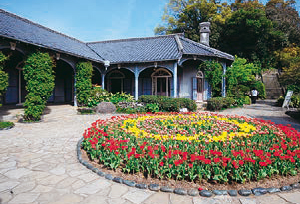 Located on the top of a hill in Minami-Yamate, the Glover Garden has a spectacular view of the port of Naasaki and retains the spirit from the time of foreign settlement in the area.
③Gunkanjima/Hashima Island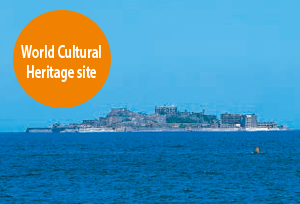 Hashima island, or Gunkanjima on account of its resemblance to a battleship, was formerly a thriving coal-mining facility before being abandoned in 1974. In 2015 the island was added to the World Cultural Heritage list and tours are immensely popular.

①Imari and Arita Porcelain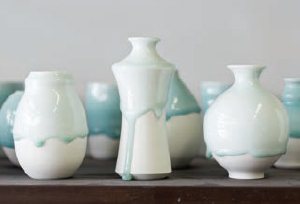 Clear, white porcelain for which Saga prefecture is renowned. Styles such as Koimari, Kakiemon, and Nabeshima are particularly of note.
②Saga International Balloon Fiesta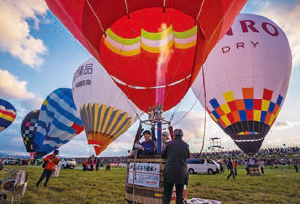 One of the largest hot air balloon festivals in all of Asia. The event is held annually on the banks of the Kase River in Saga city in early November.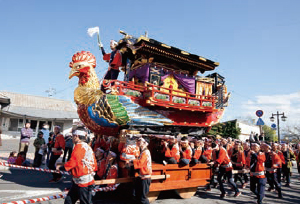 A city known for its unique culture and grand O-Kunchi festival also in early November. The beautiful Karatsu castle, fresh catches from the Genkai Sea, and famed Karatsu Wares are all worthy reasons to make the short trip. A town brimming with history and character.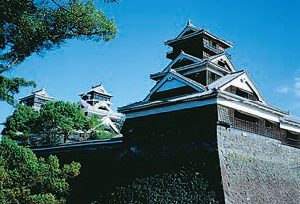 Built in 1607 its gorgeous interior was restored in celebration of the castle's 400th anniversary. Parts of the castle were damaged in the 2016 Kumamoto Earthquake, but it still makes for excellent sightseeing and is emblematic of the city of Kumamoto.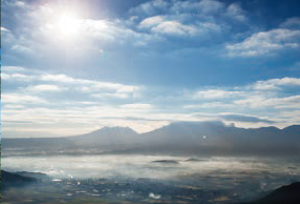 A city located in the Caldera of Mount Aso, one of the world's largest. It is an Earth heritage sight and designated Japanese Geopark as well. The scenery changes with the season, and makes for a natural escape no matter what time of the year you visit.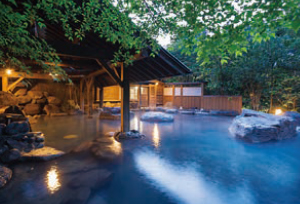 Different ryokan (or traditional Japanese style inns) dot the area and have their own hot springs built into the building. Since the source of each of these springs differs, the smell, quality, and color of each differ widely. A set open-air bath ticket at 1,200 yen is a popular way to get to experience several in a short period of time.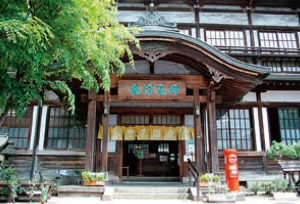 A city famous for having the greatest number of hot springs in all of Japan, Beppu merges the qualities of a modernized city with the atmosphere of a hot spring resort. The sight of steam lilting over the city landscape is a unique and unforgettable sight, to say nothing of the geothermally steamed treats for your consumption.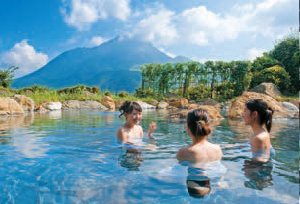 One of Japan's premier hot spring resort towns, Yufuin continues to grow in popularity. Kinrin Lake is emblematic of the town's charm, where visitors can have a phantasmagorical view of the lake as fog settles upon it in the morning from late autumn to winter.
③Kokonoe "Yume" Otsurihashi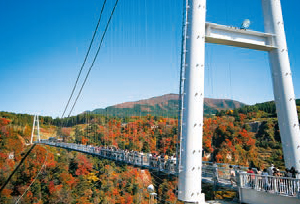 At 390 meters long, 173 meters high, and at a height of 777 meters above sea level this is the longest and highest suspension bridge in Japan. In Autumn when all of the leaves are changing color the entire valley becomes robed in shades of yellow and red- a perfect picture opportunity! After you are finished then why not look for a hot spring to finish up the day?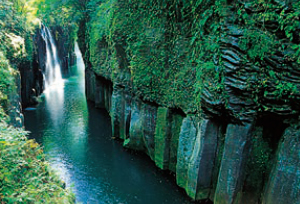 The natural landscape was first created by lava pouring down from an eruption of Mt. Aso. As a result the landscape is unique with steep cliffs framing the water below. The Manai-no-taki waterfalls were selected as one of Japan's top 100, and in summer they are illuminated for a breathtaking sight. Paddling up to the front of the falls by boat offers a dynamic view of the scenery.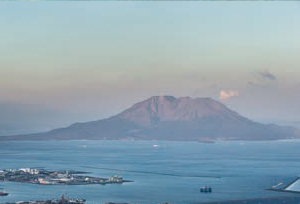 Sakurajima is an internationally recognized active volcano where smoke still rises and ash falls. A composite volcano, it has a northern, central, and southern peak and erupts to this day. Due to the fertile soil of the surrounding land, there are many delicious fruits and vegetables grown here, including the largest daikon roots in all of Japan!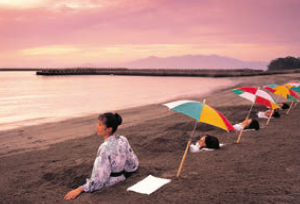 Ibusuki's hot springs are special, and home to steaming hot sand baths, also known as sunamushi onsen. In a sand-bath you lie buried on the beach, warmed by the hot spring water. With health benefits said to exceed those of conventional onsen, these baths are quite popular among women as it is said to prevent inflammation and keep the skin's metabolism healthy.